New Landscape Lighting Project on Glen Drive Harbor Springs Michigan.
Here are some pictures of a landscape lighting project that we just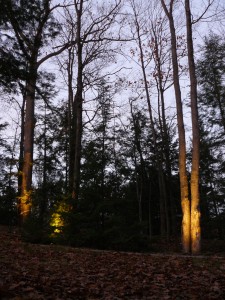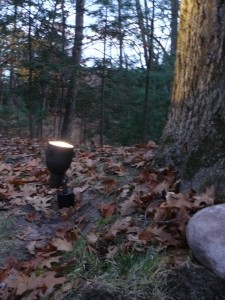 completed. I'm happy to report that the woman contacted me to do the job after reading some of the articles I have been writing for this website.
There are a few things to take into account if your considering a project along these lines. First is that you want to think of the future, there is a lot of labor involved in digging the trench in which the wires are  buried. So what I've done is to leave extra room on the circuit to accommodate more fixtures if the want arises. I've also run an extra wire to some of the fixtures in case the owner would like some of the fixtures on a different switch.
Second, you must take into account that the fixtures are exposed to the elements. Because of this I have selected high quality aluminum landscape fixtures that are powder coated. They also have a protective tempered glass lens and are "O" ring sealed to help keep moisture out. These are more expensive than the big box store variety but they have a five year warranty. They will pay for themselves in the long run.
And last but not least I use a product called Noalox when making all of my connections and on all of the screws for the fixtures. Noalox is an antioxidant joint compound that inhibits rust and corrosion. It's fantastic for keeping screws from seizing and wirenuts from becoming corroded.
After all work was completed I met with the home owner after dark to be sure she was satisfied with all of the light locations and the directions they were pointed in. With that final and most important step completed I know that this home owner will enjoy years of trouble free landscape lighting out of her new fixtures.