Complete Remodel of a Lake Front Condo in Charlevoix Michigan
It's summer time in Northern Michigan, a busy time for most contractors – including this electrical contractor. Here are some pictures of a condominium that I just completed for Indesign in Charlevoix. As a master electrical contractor in Northern MI I do a lot of work for them.
The last time anything was done in this place was probably the 80's so it was definitely time for a face lift. And as you can see from the pictures, Indesign has done another great job. I love the four inch low voltage can lighting they spec out and on this one we installed some really trick dimmer switches.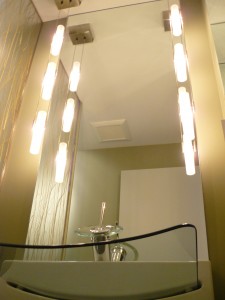 Lutron's "Maestro" series dimmers are top of the line. With standard dimmers you can only control the light level from one location (if there are more than one switch to turn the lights on and off from). But with Maestro light dimmers, there are master and slave dimmers that communicate with one another so you can control the light level from any switch location. Also the lights don't just come on instantly but they fade on and off so you can leave the room before the lights go out. It's a really cool effect, I love them.
Kitchens and bathrooms are areas where Indesign really shines. I like the clean look and interesting light fixtures they come up with. Like the vanity fixtures in this bathroom, also low voltage, and very unique. Also I always put in Panasonic fans in their projects. They're very high quality, are very energy efficient and extremely quiet. You hardly know they're on!
All in all another great project from them. I can't wait for the next one. If you are thinking of remodeling remember that a great plan is a critical step to making your project flow smoothly, getting completed on time, and under budget.
Electrician & Electrical Contractor
Condos – Kitchens – Bathrooms
(231) 348-9607