Installing new street lighting for Harbor Watch Condominiums in Petoskey Michigan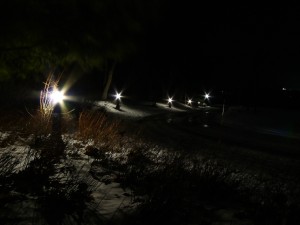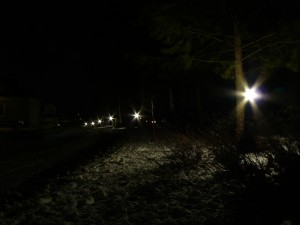 I just finished a street lighting project for Harbor Watch Condominiums in Petoskey. These pictures show the final result. Members of the board first contacted me this summer to give them a quote, but they weren't sure what kind of fixtures they wanted to install, so I recommended that they call Tim Fisher at Indesign. As you can see Tim was able to give them a great looking fixture and at a reasonable price.  The fixtures take a standard screw in light bulb so I provided compact fluorescent lamps that give ample light and use very little energy.
I'm very happy with the way the project went. The lights are installed on concrete bases that were existing so I wasn't sure how pulling new wire through the existing conduits was going to go. Also, the new fixures had a different bolt pattern than the existing fixtures, so I had to drill special anchors into the concrete bases for the new lights to secure to.  The effect these lights have on the property is quite dramatic, they create a very warm and inviting entrance. I hope the owners at Harbor Watch enjoy them as much as I do.